John Samuel Oram 1847-1913 m Jane Clark
Colonel Vaughan, a landowner in Mayo facilitated John's apprenticeship to Daniel Gooch at the Great Western railway works at Swindon in Wiltshire. The family tradition is that later, in 1867 John broke an apprenticeship while he was working in the Clyde area of Scotland so he hurriedly returned to Ireland and sailed to America. There he met with Gilbert Clark who had worked on the Burrishoole Estate with his father and married Gilbert's daughter Jane. Both families lived in Cleveland Ohio where John met Rockefeller through the Baptist Church and John successfully designed machinery to speed up the process of barrel making for Rockefeller's oil. The family has the 1907-8 catalogue of John S Oram company that Chris has arranged to be shown on http://vintagemachinery.org/mfgindex/detail.aspx?id=1000&tab=3. John was a keen photographer so the family has some of his good quality pictures including indoor shots of Wilford taken in the early 1900s. John visited Wilford a number of times, usually accompanied by his daughter Emma. He died while visiting his sister Lily at Ilfracombe in Devon, England.
Jane Charity Oram 1849-1945 m William Puttock
Jane met William Puttock while living in Sussex and they became engaged just before William went to the Antipodes. The Oram family was relieved when William appeared to be staying in New Zealand and it looked as if Jane would marry someone "more suitable", but William arrived in Somerset just in time to claim Jane. The only family members to dispute this story were Jane's own family.
John's diaries record:
24/11/77 "William Puttock here", 13/12/77 "Willm Puttock left"
9/8/79 "W Puttock left for New Zealand", 19/10/82 "Jane married to William Puttock"
Jane & William spent a few years in Australia before Jane returned to England alone with the children, William joining them 3 months later. After a time together in Bristol contact was lost with William after he returned to the Antipodes while Jane moved to live near or with her parents until they died.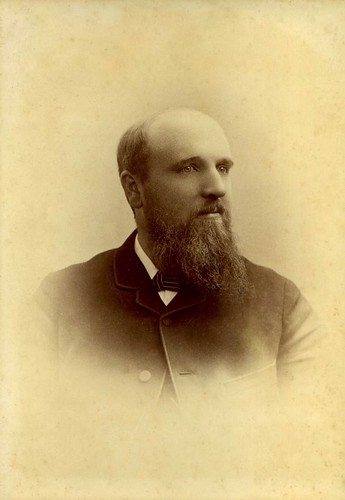 Arthur Talbott Oram 1853-1919 m Catherine Love Anderson
Arthur, his father John and their diaries are the key subjects of this site. The 1970 essay gives an overview of his life.
James Henry "Jemmy" Oram 1857-1917 m Henrietta E Burt
'Jemmy' attended the Albert Agricultural College at Glasnevin & it is possible that John intended that Jemmy rather than Arthur would take over the estate work. On 18/1/81 John's diary entry is "To Dublin with Jemmy who left for New York". One of his nieces described Jemmy as being full of charm and fun but alas he became very fond of his drink and became a great worry to his parents. At that point his eldest brother John Samuel invited him to Cleveland, Ohio where he stayed for the rest of his life.
Alfred William Oram 1861-1942 m Jane Green
Alfred joined the Ulster bank after he finished school and in the early 1900s was appointed manager of their Clones branch. In August 1897 he married Jane Finlay Green whose father was an estate agent (family tradition) at Ballyshannon, Donegal. In 2013 there was no record of their marriage in the Irish civil marriage registration index available in ancestry.co.uk. Arthur slept at Ulster Bank House, Enniskillen during the wedding festivities.
Caroline Susannah "Caro" Oram 1863-1947 m Thomas Hann
After the family returned from Sussex Caro attended Misses Brown's school in Westport. Caro was 18 year old when she moved with her parents to Lovington, Somerset. She was apprenticed as a draper in Glastonbury and married a local solicitor.
Emma Agnes Oram 1865-1955 m Alfred Hinxman
After the family returned from Sussex Emma attended Misses Brown's school in Westport. Like Caro she was apprenticed as a draper in Glastonbury but then got a job in Salisbury where she married a coal merchant's clerk. They moved to Devizes when Alfred became depot manager and in 1906 employed James (Jim or Jimmy), the son of Arthur Talbott Oram. When Alfred was appointed Managing Director of the firm in 1909 the family returned to Salisbury leaving 19 year old James in charge at Devizes.
Lily Louisa Oram 1869-1952 m James Allen
In her twenties Lily joined the Bible Christian Church and for a time was known as Sister Lily while she worked in the East London slums. Her husband James was a journalist, author and deeply religious man. They were living in Ilfracombe when James died in 1912; Lily's eldest brother John was to die there in 1913. Lily's visit to Wilford in 1914 is recorded in Arthur's diaries and some of her good photographs survive.
Edith Mabel "Eddie" Oram 1870-1951 m Walter Loveridge
Described by a niece as "of all the daughters Edith was most like her father in temperament – firm-mined and very just." Like her sister Lily, Eddie was attracted to the Bible Christian Chapel near Lovington, Somerset. There she met her husband Walter Loveridge. Eddie's brother-in-law Alfred Hinxman (see Emma's entry above) arranged for Walter to work in the Melksham branch of the coal merchant's business. They retired to Oxford.
Letitia Kathleen Oram 1872-1942
Described by her nieces and nephews as "extremely independent" Kathleen was headmistress of the village school at Yeovilton, Somerset.