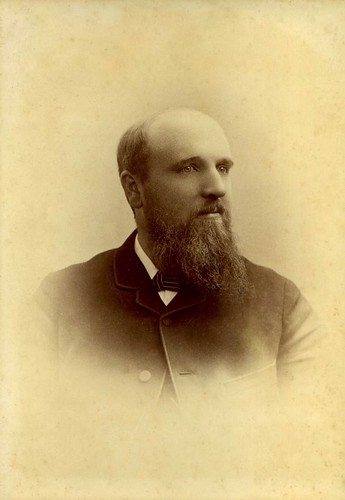 Born:  25 Mar 1853 at Iwerne Minster, Dorset, England and baptised at Sparkford Church on 5 Jun 1853
Parents: John Oram 1824-1907 and Jane Talbott 1829-1906
Siblings: John Samuel Oram 1847 – 1913
Jane Charity Oram 1849 – 1945
James Henry Oram 1857 – 1918
Alfred William Oram 1861 – 1942
Caroline Susannah Oram 1863 – 1947
Emma Agnes Oram 1865 – 1955
Lily Louisa Oram 1867 – 1952
Edith Mabel Oram 1870 – 1951
Letitia Kathleen Oram 1872 – 1942
Married: Catherine Love Anderson 1854-1920  on 11 October 1881 at Hollymount Presbyterian church, Co Mayo, Ireland
Offspring: Jane Oram 1882-1882, Anderson Oram 1882-1882, John Oram 1884-1953, Arthur Oram 1885-1965, Margaret "Gretta"Oram 1888-1967, James Oram 1890-1964, Emily Oram 1890-1942 and Isabella "Isa" Oram 1891-1959
Lived in: Iwerne Minster, Dorset, England; Burrishoole, near Newport, Co Mayo, Ireland; near Paddington, London, England; Wilford Lodge, near Newport, Co Mayo, Ireland.
Died: 6 Aug 1919 at Wilford Lodge, near Newport, Co Mayo, Ireland and buried with Catherine in the Church of Ireland churchyard at Newport.
_____________________________________________
Arthur's surviving offspring Arthur, James and Gretta were the sources for Arthur's entry in the "The Oram Family Saga" and written by Daphne Oram in the late 1960's when every night scenes of violence in Ulster were being shown on the television.
_____________________________________________
Second son of John and Jane Oram born 25th March 1853 was born in Iwerne (now known as Iwerne Minster) in Dorset. He was christened at Sparkford Church on June 5th 1853. Soon after this he was taken to live at Burrishoole, Co. Mayo, Ireland. Arthur was educated locally then he went to Athlone School. In July, 1869 he took his examinations and on July 22nd he started work as a clerk in the offices of the Great Western Railway at Paddington, London. In the previous few days he had visited Kensington Museum and other places with his father. Unfortunately this work badly upset his eyesight which troubled him for the rest of his life, so he returned to farming in Ireland where he joined William Rose as assistant estate manager at Burrishoole in 1873.
He revisited the Paddington G.W.R. offices twenty years later and was delighted to find that he was still remembered by men working there.
In 1877 William Rose married so Arthur needed somewhere to live. This coincided with the return of his parents and young sisters from Sussex so they all moved into a hunting lodge called Wilford that had previously been occupied by a Mr. Pridham.
In late 1881 Arthur married Catherine Love Anderson of Brieze House, Ballaglass just after his parents gratefully returned to Somerset leaving Arthur and Catherine to make Wilford Lodge their home for the rest of their lives. [2013 note on Arthur and Catherine's marriage]
Arthur ran several of the estates his father had managed. Those at Lagduff, Clogher, Mulrannay and Ballycroy and together they ran a business offering fishing and shooting rights in Co. Mayo and Somerset. After his parents moved to Somerset, Arthur visited them on several occasions for Family Reunions and especially when his American brothers came over. He seems usually to have gone alone, perhaps this was because of the very rough crossing. On the other hand he only rarely joined his family when they visited Jane's parents at Knockroe.
In later years Arthur was badly upset by the death of his much loved mother. He must have left home in a bit of a rush because he had to buy slippers and an umbrella (6/11d.) en route. For several weeks afterwards his diaries recorded "went for a long walk". He also felt his responsibility at his father's funeral as he was the only son present. He stayed 10 days on this occasion visiting his son James in Devizes and calling on his daughters at boarding school on the way home.
As well as running estates, Arthur valued land when tenant rights were sold. One year he valued land for the railway company when they paid compensation to smallholders. One famous case was Pat Mack who owned a strip of land a mile long and 100 yards wide and the railway went down the middle! He also managed the Burrishoole fishery and served as a conservator. He arranged leases on big local houses. He once recorded accepting an offer of £200 for 3 months for Burrishoole House for Mr. Kennedy and another letting Rock House for General Clive to a Mr. Leveridge for £275. These lettings also involved him in seeing the house was cleaned, aired and ready and also an inventory made.
Life was always a bit precarious for the family, the Irish troublemakers were often restive. On September 20th, 1887 there was Home Rule Meeting at Newport – Arthur firmly stayed at home and records "No disturbance". The following year he took the local police sergeant up to inspect a waterfall that had been blasted – Arthur and this sergeant another year "seized all" the nets and fish of poachers at the Burrishoole fishery. On one occasion he even risked the displeasure of one of his employers, Mr. Carey, by refusing to back Mr. Carey in his choice of the next postmaster at Newport, "I refused" he records, "as not wishing to sign as in opposition to Sgt. Deverill".
His financial position was also precarious, in 1887 he recorded in his diary "Got letter from Baker and Sons saying part of Teevemore was sold to another person". The owner on this occasion had not contacted him directly nor given him the name of the future owner. In 1907 and 1908 several of the estates he managed were sold to the Congested Lands Board – so Arthur lost much income – but he seems to have taken on Insurance work as in late 1908 onwards various folk called about Insurance. (As there are several pieces of blank paper headed "Commercial Union Assurance Co. Ltd.", I surmise that he was agent for this company).
Arthur had always understood from his employer, Mr. Carey of Newport that as Mr. Carey had no children of his own, on his death he would leave his estates to him. But Mr. Carey left no will in respect of the estates and these were later sold for £30,000. Arthur was one of the executors of the will and as distant relations of Carey's had tried to upset things, Arthur as executor briefed the famous Irish lawyer Tim Healy. The executors won the case and Arthur (an ardent Protestant) handed over £10,000 at the Catholic church in Newport which is still the pride of that district today.
In early years Arthur added Emigration Officer to his list of duties. He organised the Achill to Canada run seeing to all details and getting the people safely from the Mayo coast in a small local boat called "The Hooker", out to the liner that had stopped a few miles off-shore to pick up 100 or so emigrants. For this post he had a gunboat at his disposal.
Arthur attended church each Sunday and was a churchwarden with William Rose. Every year when his children were young, he obviously enjoyed the Annual Children's Party.
Arthur Oram was a much loved and much respected figure in Co. Mayo. He kept on happy terms with his estate workers despite the Irish political troubles.
His nephews and nieces remember him as an impressive upright figure with a fine head and shoulders and courtly manners, looking his best when driving a trap or a jaunting car to church each Sunday in Newport.
He was buried in the Protestant Churchyard at Newport Co. Mayo in 1919.
We have Arthur's Working Diaries from 1887 to 1918. From the Family History point of view they do not reflect much – but it records the life of a man with a wide variety of activities. Two or three times a year he spends a week or more in court for possession orders, evictions and non-payment of rents. Perhaps the best way to illustrate this varied life is to give typical extracts from his diaries, so here they are:-
 "Jan. 7th 1887    To Castlebar as Grand Juror. Few cases done. 12.30
 Jan. 8th 1887     At home in office preparing Lagduff accounts. Very stormy and cold.
 Jan. 9th 1887     Commenced giving hay to outlying cattle.
 Jan. 15th 1887    At home.    Paved pighouse floor.
 Jan. 20th 1887    To Spicers. Borrowed cart and got gravel from river for cementing repaired gully. Then trimmed hedge.
 Feb. 4th 1887     Newport Fair – few cattle. Horses and ponies selling fairly well. Pigs in demand at around 37/6d. and 40/-d.
 Feb. 7th 1887     Moran here about right of way across Knockbrega.
 Apr. 18th 1887    Held Rent Office at Newport for Clogher tenants.
 May 37th 1887     To Fish Market 6.a.m.
 June 10th 1887    Shearing sheep at Teevemore. Branded cattle on left horn 'O'.
 Aug. 5th 1887     At home made haystack.
 Aug. 11th 1887    Dipped Teevemore sheep.
 Aug. 18th 1887    To Burrishoole. Examined cistern. Failed to find cause of water running out.
 Sep. 13th 1887    Sorted Teevemore sheep.
 Sep. 21st 1887    To Mr. Hunston's Auction Lot 80 Blackface sheep at 17/-d.
 Sep. 22nd 1887    To Westport Fair. Very slow. Bad trade for cattle, never remember worse.
 Oct. 22nd 1889    To Mulranny to make inventory of small Lodge.
 Apr. 30th 1889    To meeting of Conservators at Ballycroy to appoint Achill Water Bailiffs.
 Feb. 22nd 1889    Put in kidney potatoes.
 Aug. 22nd 1890    Employed 8 men. To Bog about pulling out turf, cutting rushes. John Caine bought two bags of crushed corn.
 Apr. 30th 1890    To Mullawn. Cut tails off 54 lambs including pets. Leaving 22 ram lambs uncut. Cut 40 at Teevemore leaving 2 young ones uncut.
 Nov.29th 1890     To Mulrannay Fair to see H.G.B's tenants about petition for abatement.
 Apr. 1st 1890     Berry complains very much of sheep trespass.
 Apr. 2nd 1890     To Teevemore. Put up wire paling on South shore between Berry's land and Teevemore. Hung two gates.
 May 16th 1892     Out over property warning tenants to pay 1/2  years rent that was due 29th Sept.1891.
Note at back of diary in 1892 records that he made a profit of £98.17.3d. on cattle and £27.13.0d. on sheep that year.
Jan. 15th 1891    Got holes dug along avenue in lawn for trees at Burrishoole.
Mar. 20th 1891    To see meet of Stag Hounds, Castlebar.
Jan. 3rd 1893     Deverill called reporting poaching and coarsing on Carrowbeg Fergus.
Jan. 18th 1893    Refers a lot to drainage plans for the area with the help of a Major Fair.
Jan. 24th 1893    Major Fair arrives at Wilford 11.00 a.m. After drafting agreements etc. we examine the Carrowsallagh and Rossow rivers and drains and take signatures.
Mar. 15th 1893    To Newport looked at Belmullet Railway Plan in Engineer's office.
Mar. 27th 1893    To Castlebar re letter from Land Commission about Mrs. Dick's railway money and Mr. Kennedy's ditto.
Oct. 11th 1893    This entry gives full details of the Conservators Meeting and the allocation of funds for the aid of Close Season 1893 – 1894.
Sep. 19th 1893    To Newport Vestry Meeting re presentation of candlesticks for pulpit etc.
Jun. 20th 1893    To Newport, sold and delivered wool.
Jun. 3rd 1893     All day at Rossyvera House trying to put furniture tidy etc., etc.
Apr. 3rd 1893     Elected Churchwarden with William Rose.
April 21st & 26th 1893 He went to London as a delegate to the Anti Home Rule Demonstration at the Albert Hall – A few weeks earlier he had been asked to go by Mr. Stoney of Rossyvera House.
March 1894        To Teevemore with 6 men remade fences destroyed by high tides – First fine day — for a long time.
May 24th 1894     Wire arrived announcing Mr. Kennedy's death      I have to mourn the loss of a kind and indulgent employer and the greatest personal friend – (Mr. Kennedy left him £200 in his will).
Jul. 10th 1894    To Newport – Case against John Clinton for fishing in estuary of Burrishoole River at Illanarick. Fined £1.10.0d.
Feb. 12th 1894    To Newport, met Receiver Newport Estate (H. Vickers, Esq. )
Mar. 5th 1894     Commenced net fishing at Burrishoole, went out with men, got about 20 trout and 3 salmon.
Mar. 30th 1.894   Letter from Mr. K. about giving seed to tenants.
Apr. 19th 1894    At home all day colouring maps for Mr. Kennedy showing Burrishoole Estate. Missed post.
Jun. 5th 1895     To Newport p.m. Circus with children.
Jun. 15th 1895    At home. Rent Day but not a tenant comes near to pay me.
Sep. 10th 1895    Got wire from Marshall Bartlett (his cousin) to send 90 ewes to Somerset.
Nov. 9th 1895     Went and looked at yacht which is aground near McAdams' quay, having broken chain and drifted last Tuesday. Not injured in any way. To Westport by 2.00 p.m. train. Took wood.
Nov. 28th 1895    To Mullaun with Mrs. O. Meeting of Ladies Committee about children's party at school. To Westport and made affidavit re Clogher School lease.
April 1896        Visited Dublin saw agricultural show, visited Zoo and circus – ladies went shopping.
Apr. 21st 1896    Another lamb taken (by fox?) not eaten, I poison and lay it down in quarters in open.
Apr. 22nd 1896    … another lamb destroyed. I leave to watch sheep. Mick Dever volunteer to accompany me. (They walked about all night & nothing happened – went home 4:30)
Nov. 14th 1896    Mr. Kennedy's Tenant Rent Day. Few paid. Tenants from Doontrusk and Derradda came in a body asking for abatement.
Feb. 9th 1897     Received advice of piano at Westport Quay sent cart to quay.
Jun. 17th 1897    58 salmon by fast train – properly packed and labelled – (salmon was fetching 1/8d. a pound in Dublin at that time (wholesale) Watt Spicer made the boxes.
Jul. 22nd 1897    Long account of accident to one of his horses at Burrishoole Bridge. He has to shoot horse as leg broken above haugh [sic]. "Poor Paddy 16 years old a more useful horse never lived. Great sympathy from everybody." (Interesting to note that his father John also had an accident on this bridge in 1870 whilst breaking in a young mare to harness)
Feb.15th 1898     Visited by about 300 people from the "Anti Grazing Crowd". A full report of their visit and that they wished him to sell Teevemore to the Congested District Board – He bargained with them and agreed that he "would meet the C.D.B. They said that was all they wanted, thanked me and left."
May 1898          Brother Alfred visited him and they went for long walks across surrounding countryside.
June 1898         His brother John and daughters came to stay.
July 1898         Attached to diary is statement of Michael Dever the water bailiff of poaching in Burrishoole Fishery.
Oct. 25th 1898    Appointed secretary of the Drainage Trustees for the Newport River area.
1899              Visited England with son John who obtained a place in Sexy's School Bruton. He visited sisters Caro Hann, Emma Hinxman, Lily Allen, Edie Loveridge and also about 4 days with his parents in Sparkford.
1902              Consulted solicitor to see if he can resign as a conservator – This was because he wanted the appointment of Clerk to the Conservators at £25 a year – He failed to gain this post and remained a conservator.
1905  April       Visited Dublin to discuss the Lagduff Estates. Has his first ride in a motor-car.
      June        Burrishoole estate sold to the Congested District Board.
      July        Layduff sold to the C.D.B.
Nov. 1904         To Collan More Island and interviewed Islanders claiming bog in Rosmindle re drainage charge.  All claim the quantity of the bog given me by Rosmindle residents.
1906              Miss Rose and girls cycle to Mallaranny
March 1906        Arthur's father John transfers the Teevemore estate officially to him.
April 1908        Had trouble finding enough oats, even visited Knockroe area to seek supplies.
1908 onwards –    The Family seem to spend a lot of time and share activities with, the Ormsby's of Rossyvera House.
My favourite extract from his diaries was for March 23rd 1887:-
 "Missed mail car with letters – Drove to town in 25 minutes – Requested Mr. Saunders the postmaster to report irregular times of mail car. Mr. Saunders requests me not to press it as Terry the driver does not know the time!
To Teevemore where bullock was reported sick this morning – now better and feeding"
– Definitely a frustrating day (Ed.)
Various images with Arthur Talbott Oram in them: